EV Type 1 and Type 2 AC Charging Cables
Volex alternating current (AC) charging cables for electric vehicles are designed for residential and public charging applications around the globe and have the approvals and certifications relevant for all specific EV market sector and regulatory requirements worldwide. Volex offers tethered and untethered EV charging cables for installation on charging infrastructure or in-vehicle charging cable applications.
They can also be called:
EV charging harness
EV charging cable
EV charger cord set
EV charging cable socket
EV charging/charger cable plugs
EV charging gun Type 1/Type 2
EV T1/T2
EV T1/T2 pigtails
Rechargeable EV hybrid charging cable
BEV charging cable
PHEV charging cable
Mode 3 charging cable Type 2
Off board charging infrastructure cables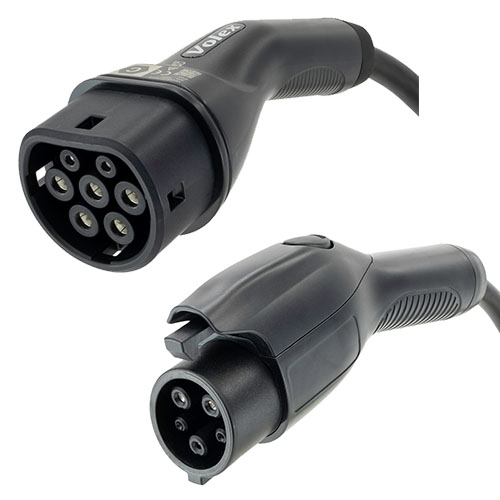 EV Type 1 and Type 2 AC Charging Cables Technical Information
Volex's EV charging cables are designed for and available in various versions that meet globally standardised AC charging interfaces. Volex charging cables are suitable for connector systems worldwide. Volex also offers AC charging plugs and charging cables in customised designs, specific to customer requirements.
Compliant with RoHS 2.0 and REACH
Media, abrasion, flame resistance
Halogen-free, flexible materials
1-phase and 3-phase
Tethered and untethered versions available
CE, UL, VDE approvals
Terminal interfaces sealed when mated
IP67 compliant, unmated
Level 1 and Level 2 charging infrastructure
Mode 2 and Mode 3 charging
What are EV Type 1 and Type 2 AC Charging Cables?
Volex charging cables are suitable for the AC (alternating current) charging of electric vehicles. These cables are available in tethered and untethered versions, in single and three phase AC current, with charging powers of up to 80A. They are available with Type 1 and Type 2 connectors in accordance with global standards. In addition to cables for installation on charging infrastructure, there are also electric car charging cables that can be stored in the vehicle.
Benefits of EV AC Charging Cables
Volex offers electric vehicle AC charging cable solutions that are designed for many electric vehicle charging applications world-wide. Benefits include:
Complete product range for Type 1, Type 2, and GB/T
Functional, compact housing for best handling
Customized designs available including cosmetic appearance and branding requirements for charging station or home charger
Compatible for both indoor and outdoor use, with UV compliance
Regulatory and safety approvals
Compliant with SAE J1772/IEC62196 Type I, IEC62196 Type II, and GB/T 20234 standards
Ingress protection minimum rating: IP67
Encapsulation to protect against thermal, drive over and drop test requirements
Why Choose Volex for EV Type 1 and Type 2 AC Charging Cables?
Volex is a global manufacturer and supplier of EV AC charging cables with extensive power products expertise in the automotive industry. With early design engagement and involvement, Volex contributes to solving complex engineering problems for its customers. Volex understands its markets, utilises quality standards, and excels at product development and OEM manufacturing.
Regional and country-specific compliance and certifications
IATF approved manufacturing sites
Vertical integration solutions
Automotive standard quality processes and commitment to end user safety
Engineered solutions for customized application-specific requirements
Global manufacturing footprint
Highly Accelerated Life Testing (HALT) testing capabilities
Contact Volex for EV Type 1 and Type 2 AC Charging Cables
Contact Volex for further assistance with electric vehicle Type 1 and Type 2 AC charging cables.