Consumer Electricals
Volex designs and manufactures custom wiring and cable harnesses, power cords, duckheads, and other related power products that are sold to manufacturers of a broad range of electrical and electronic devices and appliances. Today our products are used in laptops, PCs, tablets, printers, TVs, games consoles, power tools, and kitchen appliances.
We are a world-class manufacturer of AC power cords and consistently rank in the top three companies globally supplying some of the biggest brands in the world. Products vary in complexity but include different NEMA AC power cords as well as a variety of international configurations. All our products are designed to meet specific customer requirements. This can include specialist cosmetic features for use in high-end domestic applications, lockable and twist-to-lock functionality, and technical capabilities allowing deployment in challenging environments.
We take safety very seriously. We have safety approvals covering every major market and follow ISO 9001 procedures, ensuring the highest standards on all electric cords produced.
We have the highest reputation for quality in our industry and serve the most demanding customers, who often have strict criteria about the colour, finish, and appearance of their power cords. We have extensive experience in being a reliable partner to organizations with complex supply chains using vendor-managed inventory to support the just-in-time manufacturing approaches that most large manufacturers use.
We have the scale to meet the demands of the largest customers. We are used to working with innovative manufacturers who are developing new technology. Customers are supported by a dedicated power cord engineering team based in Singapore and China, and field application engineers based in Europe and North America who have deep experience in designing and optimising components to meet demanding technical requirements.
We have manufacturing facilities in China, Indonesia, Vietnam, Turkey, and Mexico that support our global sales team and customer base. Our global presence is a differentiator from our fragmented China-based competition. Production is allocated to Volex plants based on their strengths, customer proximity, and supply chain availability. We are experts in fulfilment and have the knowledge and resources to get our products to our customers where, and when, they need them.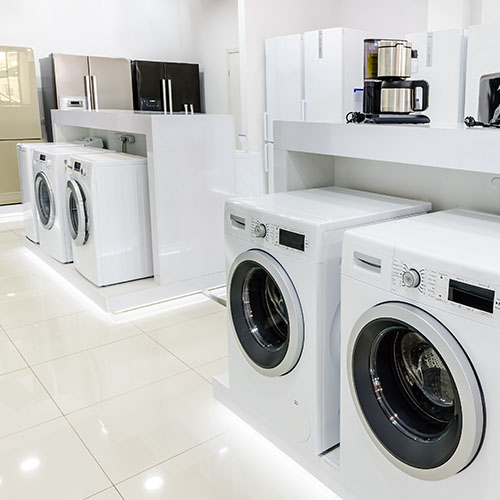 Volex Consumer Goods Power Products and Electrical Components
We manufacture a wide variety of power products and electrical components used by original equipment manufacturers (OEMs) of consumer goods. Specific end-use sectors and applications include:
Domestic Appliances
Washing machines
Refrigeration
Air conditioning
Coffee makers
Hobs and ovens
Vacuum cleaners
IT and Electronics
Laptops
Printers
Desktop computers
Networking
Office equipment
Gaming consoles
Industrial and Tools
Home automation
Power tools
Pumps
Power supply
View our full range of Consumer Electrical Power Solutions, Custom Wiring and Cable Harnesses and other Integrated Manufacturing Services for consumer electronic devices and components.
Contact Volex for Consumer Goods Electrical Power Solutions
Contact Volex for further assistance with power products and electrical components used in consumer goods.