Type 1 IEC Tethered AC EV Charging Cables
Volex Type 1 IEC Tethered AC charging cables for electric vehicles (EV) are designed and manufactured for residential and public charging applications. They are available in charging currents of 16A and 32A AC. These charging cables meet the SAE J1772 / IEC 62196 specifications relevant to the North American and Asian EV market segments and are available in IEC cable configurations.
Volex' Type 1 IEC Tethered AC charging cables include a unibody, seamless coupler design with no external fasteners to prevent user tampering. The single piece body design provides user with enhanced sealing to ensure safe electrical performance and better mechanical strength, high durability and IP67 ingress protection.
These EV charging charging cables are capable of high mating cycle requirements, with testing completed to 10,000 mating cycles. Additionally, these cables meet IEC 62196-2 / EN 50620 cable requirements and are RoHS compliant. Standard cable lengths are 5m, 7.5m and 10m, with customized length options available.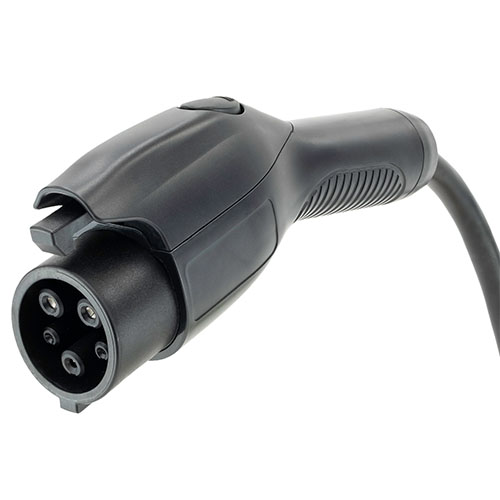 Type 1 IEC Tethered AC EV Charging Cables Technical Information
Product Definition
Charging Standard
Type 1
Standards / Regulations
IEC 62196-1,-2
Approval
TUV
Dimensions Charging Connector
Width
50.4 mm
Height
90 mm
Depth
215.6 mm
Cable Length
On Request
Ambient Conditions
Ambient Temperature (Operation)
-30°C to +50°C
Ambient Temperature (Storage/Transport)
-40°C to +80°C
Max. Altitude
2,500m (above sea level)
Degree of Protection (Unmated)
IP67
Degree of Protection (Mated)
IP44
Degree of Protection (Protective Cap)
IP54
Electrical Properties
Number of Phases
1
Rated Voltage for Power Contacts
250V AC
Rated Current for Power Contacts
16A
32A
Maximum Charging Power
4 kW
8 kW
Number of Power Contacts
3 (L1, N, PE)
Rated Voltage for Signal Contacts
30V AC
Number of Signal Contacts
2 (CP, PP)
Note on the Connection Method
Crimp Termination (cannot be disconnected)
Resistor Coding (between PE and CS)
480 Ω (lever operated)
150 Ω (lever not operated)
Mechanical Properties
Mating Cycles
> 10,000
Insertion Force
< 75 N
Withdrawal
< 75 N
Design
Housing / Handle Area Colour
Black
Mating Face / Locking Lever Colour
Black
Protective Cap Colour
Black
Housing with Customer Logo
On Request
Material
Material Housing / Handle Area
Plastic
Material Mating Face
Plastic
Material Protective Cap
Soft Plastic
Flammability Rating
V0
Material Contacts
Cu-Alloy
Plating
Silver Plating
Cable
Cable Structure
1 Phase
16A
32A
3×2.5 mm²+ 1×0.5 mm²
3×6.0 mm² + 1×0.5 mm²
Cable Diameter
10.5 mm
12.8 mm
Cable Resistance at 20°C (6.0 mm²)
≤ 3.3 Ω/km
Cable Resistance at 20°C (2.5 mm²)
≤ 7.98 Ω/km
Cable Resistance at 20°C (0.5 mm²)
≤ 39 Ω/km
Cable Standard
EN50620
Type of Conductor
Straight (or more types on request)
Outer Sheath Material
TPU Compound
Outer Sheath Colour
On Request
Environmental Product Compliance
REACH SVHC
Compliant
China RoHS
Compliant
EU RoHS
Compliant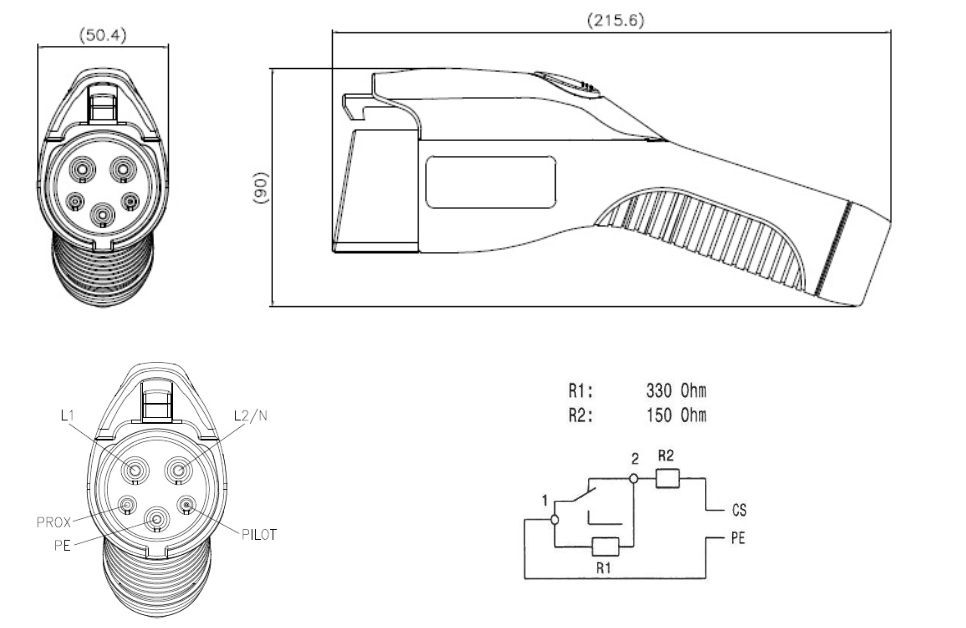 Contact Volex for Type 1 IEC Tethered AC EV Charging Cables
Contact Volex for further assistance with Type 1 IEC Tethered AC EV Charging Cables for North American and Asian markets that meet IEC 62196 specifications.