EV Charging AC Socket Outlet, Electric Vehicle Charger Outlet
Volex is a leading manufacturer and supplier of EV charging solutions. Volex offers AC socket outlets for use with electric vehicle charging stations or home charging.
These are also called:
EV Outlets
EV Charger Outlets
EV Receptacles
EV Charger Receptacles
Electric Car Charger Outlet
Electric Car Charging Receptacle
Electric Vehicle Charging Infrastructure Socket Outlets
EV Charging Mode 3 Socket Outlets
Type 2 Charging Outlets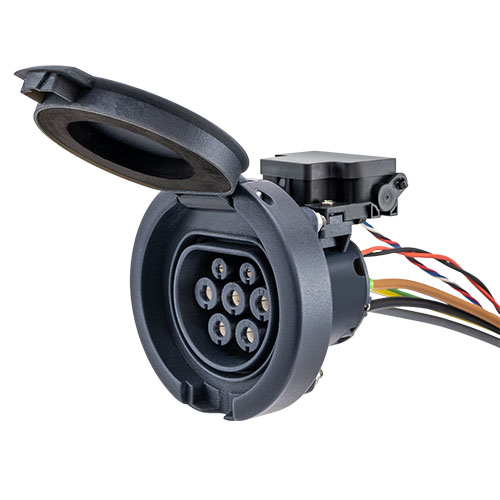 What are EV Charging AC Socket Outlets?
Electric vehicle AC charger receptacles have a protective cover for charging with alternating current (AC) and are compatible with Type 2 infrastructure plugs. They can also be used for installation at charging stations for E-Mobility (EVSE).
Applications / Markets for EV Charging AC Socket Outlets
Volex Type 2 socket outlets are designed for mode 3 residential and public AC charging applications in Europe with maximal 32A current output, single phase or three phase.
These electric vehicle charging outlets are designed upon the IEC 62196-1/2 specifications relevant to the European EV market segment.
Why Choose Volex for EV Charging Outlets?
Volex is a global manufacturer and supplier of EV charging AC socket outlets/receptacles and electric vehicle infrastructure solutions with extensive power products expertise for automotive. With early design engagement and involvement, Volex contributes to solving complex engineering problems for their customers. Volex understands its markets, utilizes quality standards, and excels at product development and OEM manufacturing.
EV Charging AC Socket Outlet Technical Information
Volex's electric vehicle (EV) charger outlets are mounted in AC charging stations and home chargers. These EV charging outlets enable mode 3 vehicle battery charging via single or three-phase charging cables with maximum charging powers of up to 22 kW. The sockets accommodate Type 2 charging connectors for Europe in accordance with IEC 62196-1 / IEC 62196-2.
Volex offers compact design, crimped or screw terminated versions, innovative E-Lock mounting system, and modular design to accommodate special integration requirements on charging infrastructure.
These socket outlets are capable of high mating cycle requirements, with testing completed to 10,000 mating cycles. The E-Lock performance is > 50k cycles.
The outlet cover protection is designed to be used on indoor or outdoor EV chargers by offering IP54 unmated / IP44 mated ratings, high UV, and shocks resistance. Customisation is possible by request.
With its expertise on thermal sensing in grid cord products, Volex offers robust and fast sensing responsive solutions on EV charging outlets to bring customers to the next safety level.
Type 2 socket outlets are intended to pass E.V. READY certification.
Protected against overheating with precise temperature measurement
Flexible mounting and easy maintenance with plug-in cables
Customised logo options for consistent branding
Universal Mounting Plate (UMP) design
Flexible options for 'crimp' versus 'screw' terminations
Stable thermal performance
Low contact resistance
High durability/endurance
High strength plastic
Developed and produced in accordance with the IATF 16949 automotive and ISO 9001 standards
ELECTRICAL PROPERTIES
Type of Signal Transmission
Pulse width modulation
Note on the Connection Method
Connection via spade connector, separable
Type of Charging Current
AC 1-phase / 3-phase
Charging Power
Max. 22 kW
Charging Current
Max. 32A
POWER CONTACT
Number
3 (L1, N, PE) / 5 (L1, L2, L3, N, PE)
Rated Voltage
250V AC / 480V AC
Rated Current
16A / 32A
SIGNAL CONTACT
Number
2 (CP, PP)
Rated Voltage
30V AC
Rated Current
2A
Cable Length
0.5m
Cable Structure
3 x 2.5 mm² + 2 x 0.5 mm²
5 x 2.5 mm² + 2 x 0.5 mm²
3 x 6 mm² + 2 x 0.5 mm²
5 x 6 mm² + 2 x 0.5 mm²
LOCKING ACTUATOR
Operating Voltage
12V
Note Number of Positions
4-pos
Position of the Locking Actuator
Top Center
Possible Power Supply Range at the Motor
9V to 16V
Maximum Voltage for Locking Detection
12V / 50mA
Typical Motor Current for Locking
0.3A
Reverse Current of the Motor
Max 1A
Max. Dwell Time with Reverse Current
0.5s
Recommended Adaptation Time
500ms
Locking Resistance
>300N
Pause Time After Entry or Exit Path
3s
Service Life Insertion Cycles
>10,000 Load Cycles
Lock Recognition
Available
Mechanical Emergency Release
Available
Ambient Temperature (Operation)
-30°C to 50°C
DIMENSIONS
Width
74 mm
Height
71 mm
Depth
90 mm
Bore Dimensions
61 mm x 58 mm
MECHANICAL PROPERTIES
Insertion / Withdrawal Cycles
>10,000
Insertion Force
<100N
Withdrawal Force
<100N
ENVIRONMENTAL AND REAL-LIFE CONDITIONS
Degree of Protection (when plugged in)
IP44 (plugged in)
Degree of Protection
IP44 (plugged in)
IP54 (with protective cover, see accessories)
Ambient Temperature (operation)
-30°C to 50°C
Ambient Temperature (storage/transport)
-40°C to 80°C
Altitude
2,000 m (above sea level)
STANDARDS AND REGULATIONS
Standards / Regulations
IEC 62196-1, IEC 62196-2
Approvals
TUV, E.V.READY
MOUNTING
Mounting Type – Infrastructure Charging Socket
Rear panel mounting (0 to 105° frontal inclination possible)
Mounting Type – Protective Cover
Rear panel mounting (available separately)
Maximum Wall Thickness
Max. 5 mm (Rear panel mounting, normative maximum specification for infrastructure plug)

Max. 3 mm (Rear mounting, normative maximum specification for infrastructure plug when using protective cover 1405217)

Mounting Hole Diameter
6.00 mm (ø)
Fixing Screws
M5 Thread
Screws Included in the Scope of Delivery
None
OPTION
Wire End Termination
Customised
Cover Color
Black (or customised)
Cover Design
Round or Square (or customised)
Thermistor
NTC (or customised)
Crimping Version – 1 Phase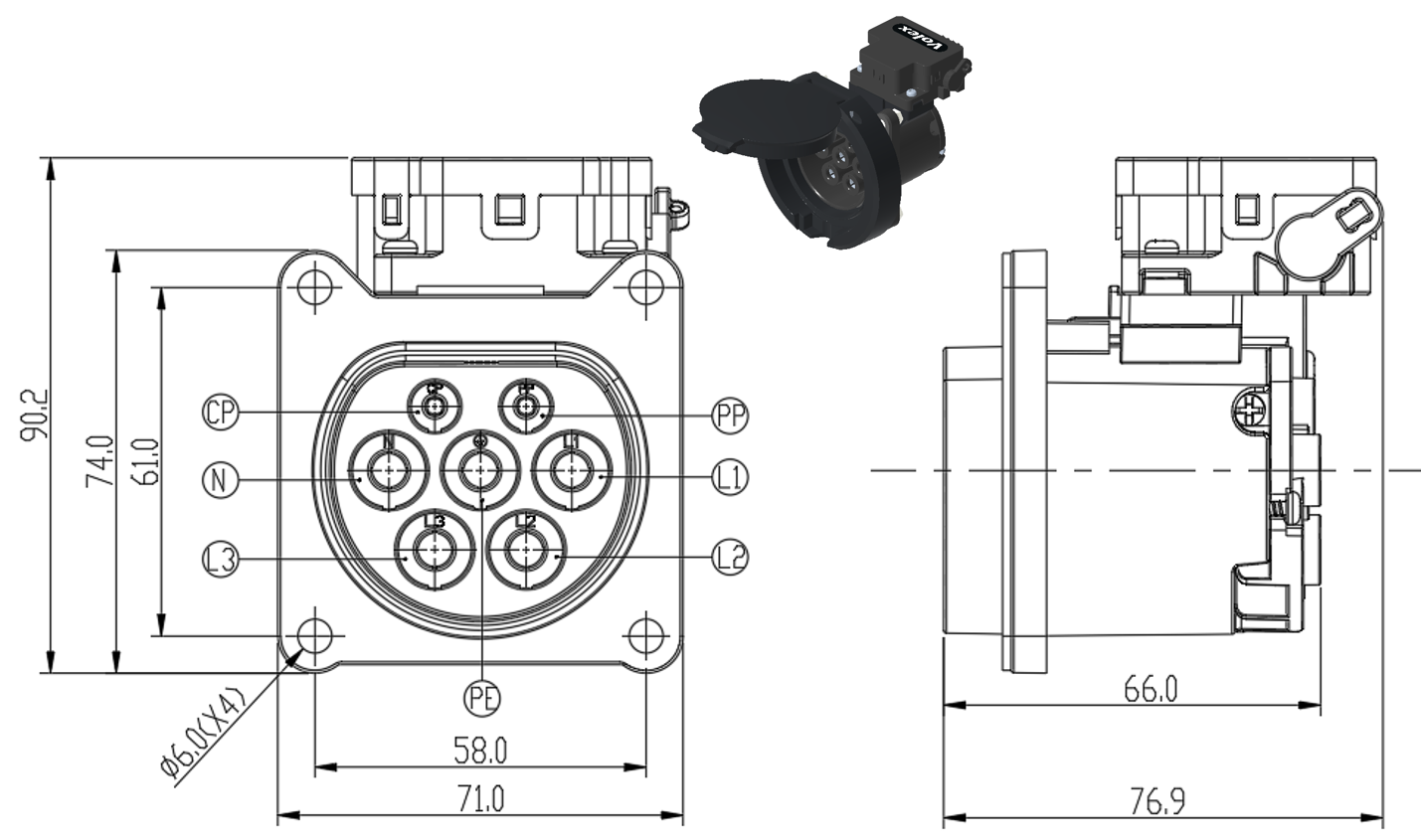 Crimping Version – 3 Phase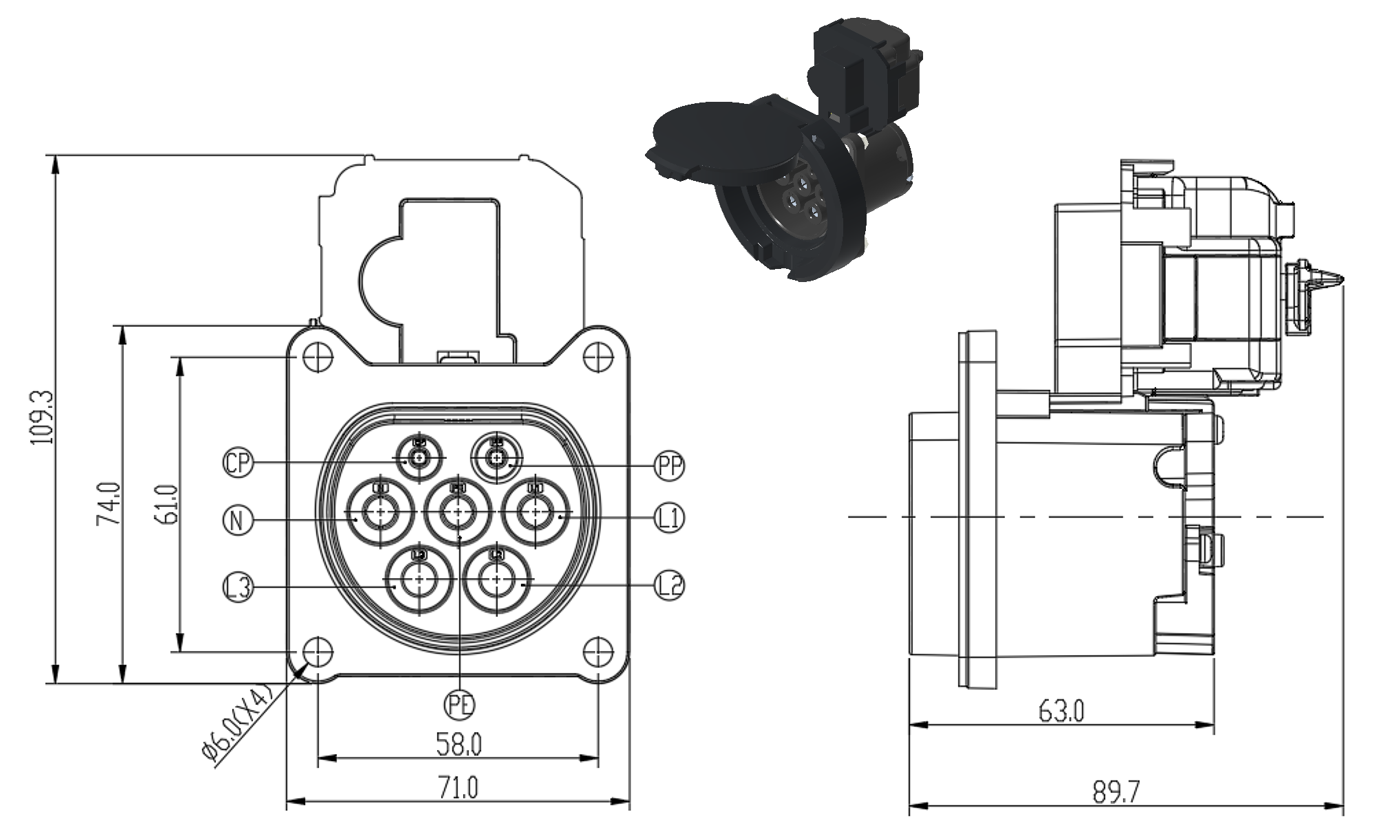 Screw Version – 1 Phase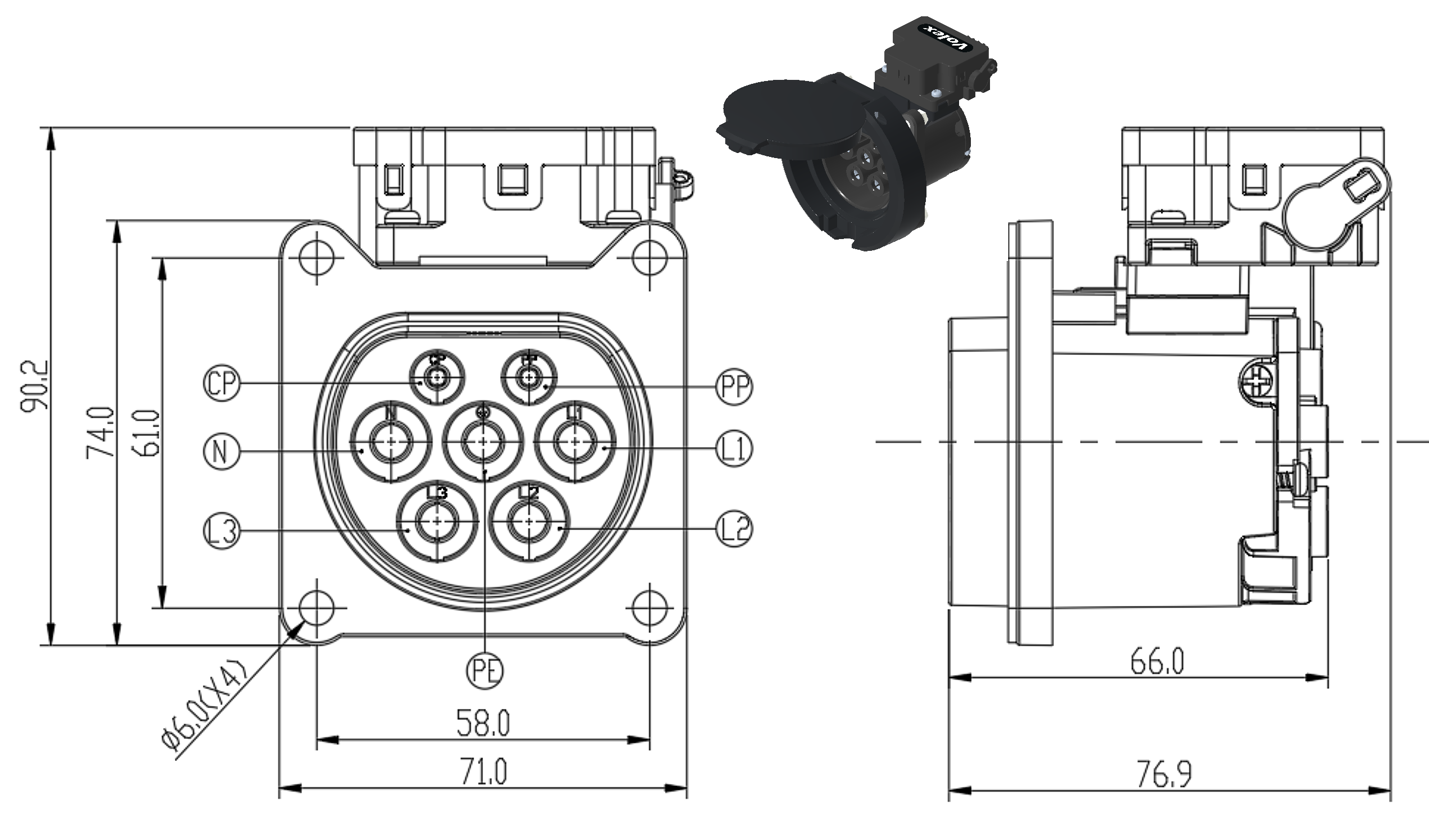 Screw Version – 3 Phase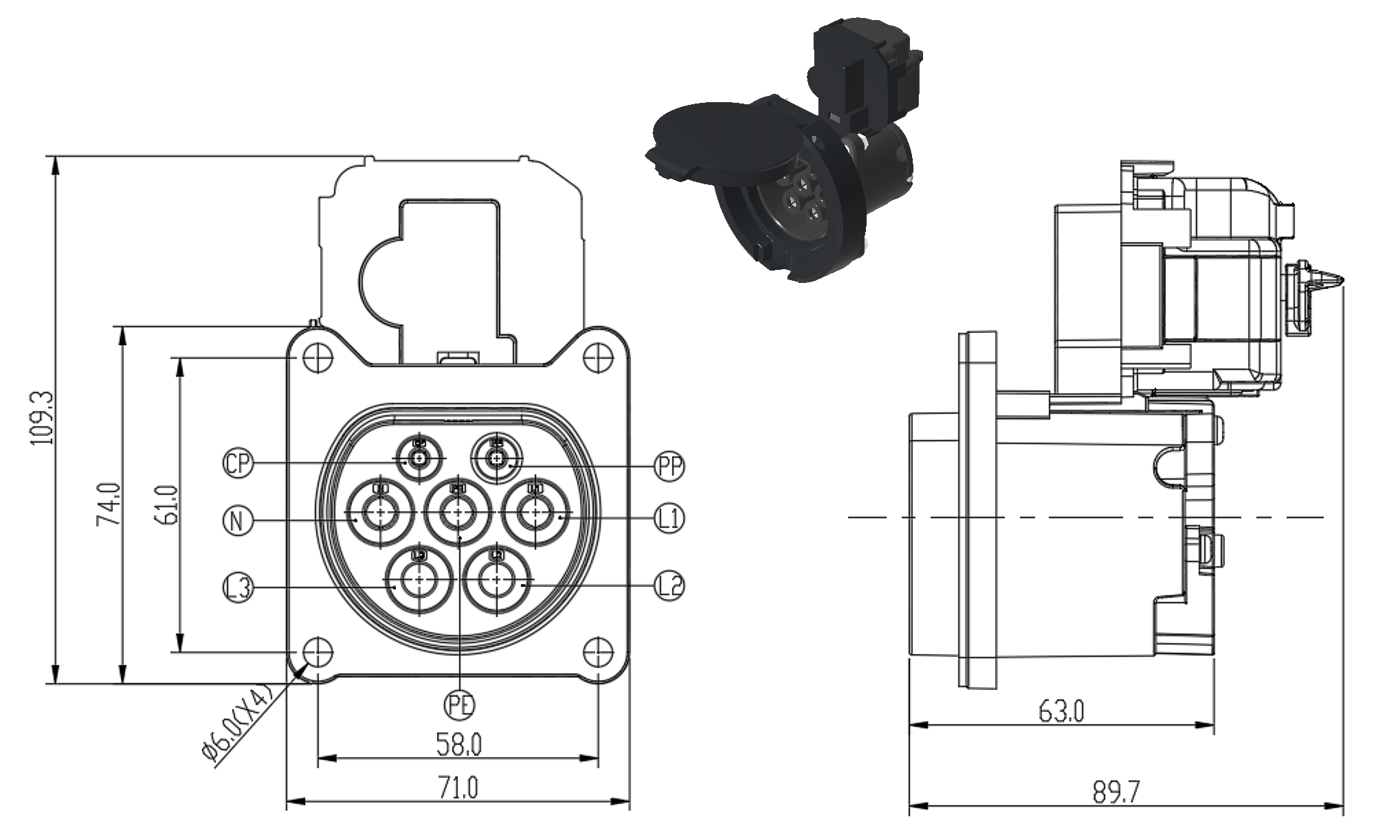 Signal Wire With Pigtail Solution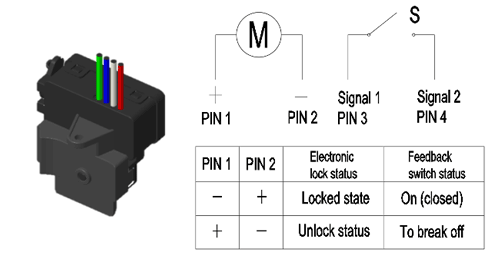 Signal Wire With Spare Connector Solution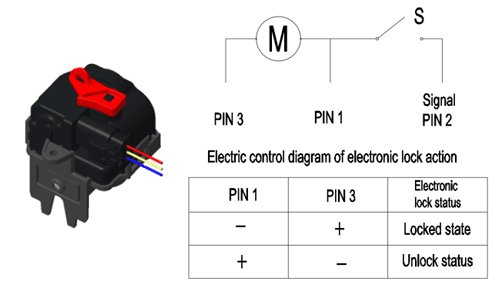 EV Socket Outlet PIN Definition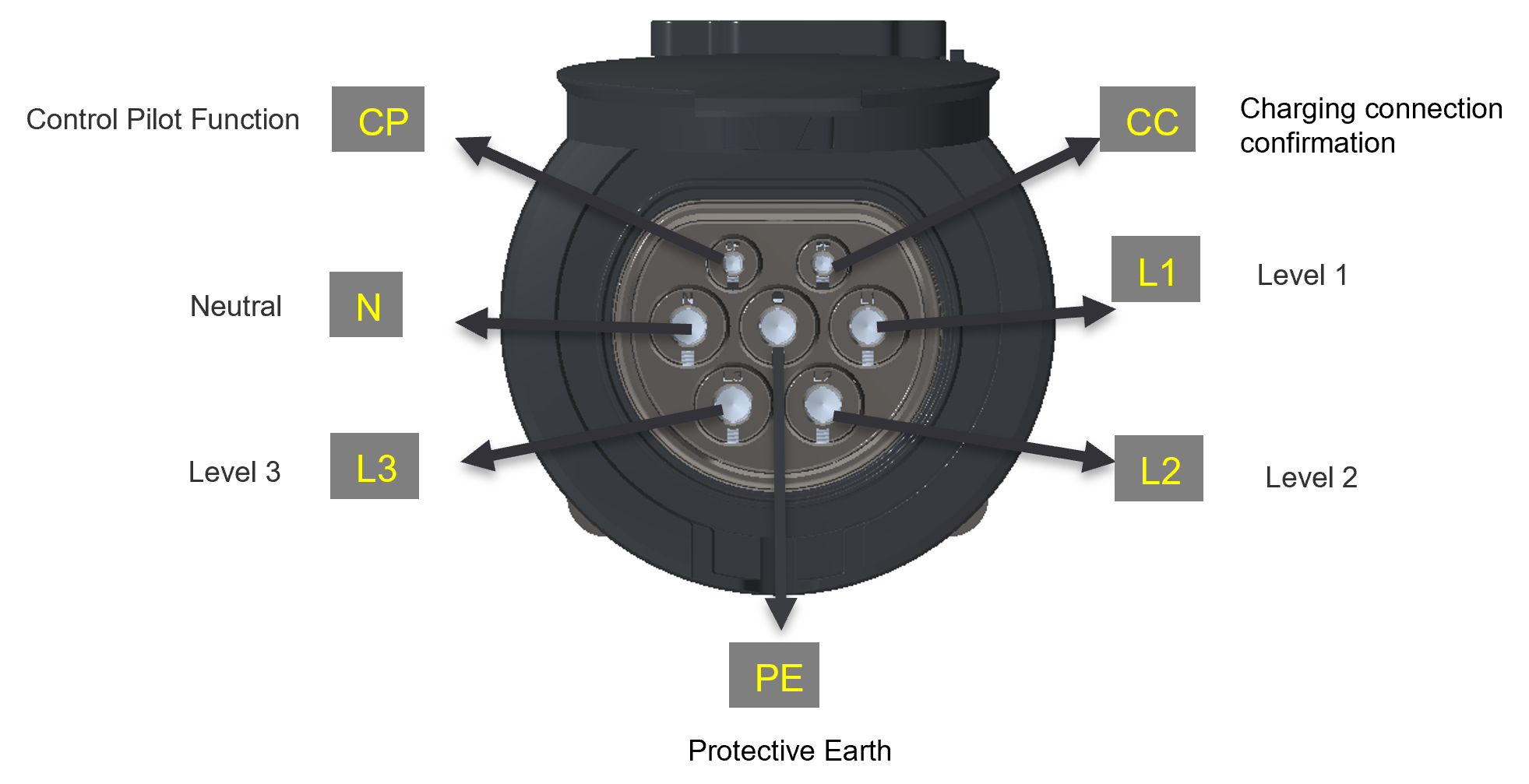 EV Socket Outlet Schematic Design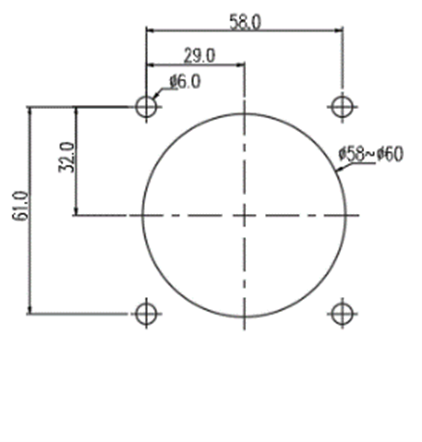 Contact Volex Industrial for EV Charging AC Socket Outlets
Contact Volex for further assistance with EV Charging AC Socket Outlets