Integrated Manufacturing Services
Volex is a global leader in Integrated Manufacturing Services (IMS) for performance-critical applications and a supplier of power products. We are a value-added, solutions provider serving a diverse range of markets and customers. Our team has a wealth of experience and are experts in cable assemblies, higher-level assemblies, data centre power and connectivity, electric vehicle charging, and consumer electricals.
Our Integrated Manufacturing Services business delivers technically sophisticated manufacturing solutions. We leverage our experience and insight across a wide range of industries to develop specialised solutions and drive product innovation, supply chain efficiencies, and improved time-to-market.
Volex Integrated Manufacturing Services include: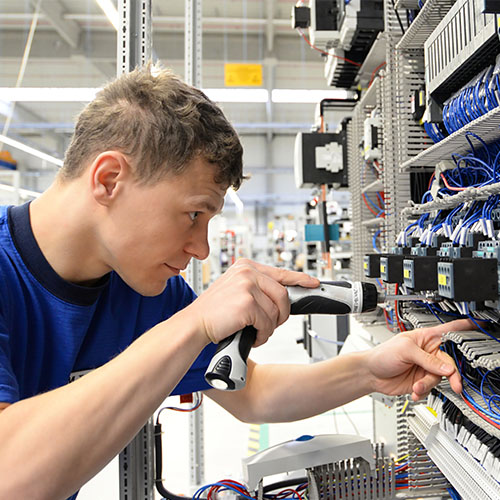 What are Integrated Manufacturing Services?
Volex IMS is dedicated to delivering connectivity and integration solutions to the world's most demanding, performance-critical applications. We are a strategic partner to our global clients, providing support from concept to reality, enabling us to manage every single stage of the process.
We partner with our customers, collaborating to establish their precise requirements from a complete range of accredited competencies including Electrical Distribution Systems, Printed Circuit Board Assembly, and System Integration.
How can Volex Integrated Manufacturing Services Support Your Team?
We bring together the expertise and resource from our 19 sites across North America, Europe, and Asia to create an aligned, tailored, and dedicated proposition. We pride ourselves on being a proactive and dependable partner who delivers world-class, future-facing solutions. If you're looking for a strategic partner with global manufacturing capabilities, which offers scale, efficiency, and value-added expertise, then Volex IMS is here to take your businesses further.
Why do our partners use Volex Integrated Manufacturing Services?
Because in today's ever more complex and demanding manufacturing markets, drawing on expertise and efficiencies from across the world, with an integrated approach, takes you further.
We are a highly capable and extremely flexible provider of custom manufacturing services to the global market. Our expert team manages highly complex operations while being flexible and responsive to our customer's needs.
We operate across four divisions: Complex Industrial Technology, Consumer Electricals, Electric Vehicles, and Medical and service the sub-vertical markets below:
Our facilities are world-class and highly adaptable, allowing us to provide the highest-quality goods, products, and services when and where you need them. Our global manufacturing approach can cope with a large variety of products in varying volumes, from a handful of pieces up to millions of units.
Volex global locations and support teams span 3 continents Our extensive experience in assembly and test of complex PCBAs, box builds, custom cable assemblies, all the way through to finished products, allows our customers to improve efficiency, scale rapidly, and realize the quality and reliability they expect – at the most effective cost.
We can design and manufacture a broad range of higher-level assemblies and connectors (ranging from high-speed copper cables to complex multi-branch high-reliability systems) that transfer electronic, radio frequency, and optical data. Today our products are used in a variety of applications including medical equipment, data networking equipment, data centres, wireless base stations, mobile computing devices, factory automation, vehicle telematics, EV charging and battery storage.
We apply the latest in advanced manufacturing techniques combined with Lean Six Sigma principles to build increasingly complex assemblies with multiple technical elements and at the highest quality levels—better, faster, and smarter. Recognised for our operational excellence within highly regulated markets, we can help you realize your vision – from supplier qualification and inspection of raw materials through to online inspection and testing of the final product, we meet your quality standards on every part, product, and project.
Our value-added expert team manages highly complex strategic and manufacturing operations while being flexible and responsive to customer needs. Our ITAR-registered facilities work seamlessly with advanced security processes and investments in applications that demand quality and reliability, and we protect your intellectual property (IP) while delivering the performance and reliability you demand.