Volex Custom Wiring and Cable Harnesses
Manufacturing excellence for custom wire harnesses and cable assemblies
Volex is a leading wire harness manufacturer for a wide range of military, industrial, medical, white goods, and automotive applications, with decades of experience in the design and manufacture of custom wire harnesses and cable assemblies. That includes expertise in ruggedised harnesses and overmoulding to withstand the harshest environments, as well as high volume consumer harnesses.
From initial feasibility to cost-saving recommendations, the wire harness assembly service from Volex covers the whole spectrum of solutions. Engineering teams at Volex will thoroughly analyse customer drawings and specifications recommending cost or performance related modifications for enhanced connectivity and durability.
Volex is highly regarded across the globe for its outstanding customer service, state-of-the-art technology and world class quality systems. The company has eight highly-specialised wire harness facilities.  All factories are being linked through a common enterprise resource planning (ERP) system to optimise project management, risk management and supply chain operations.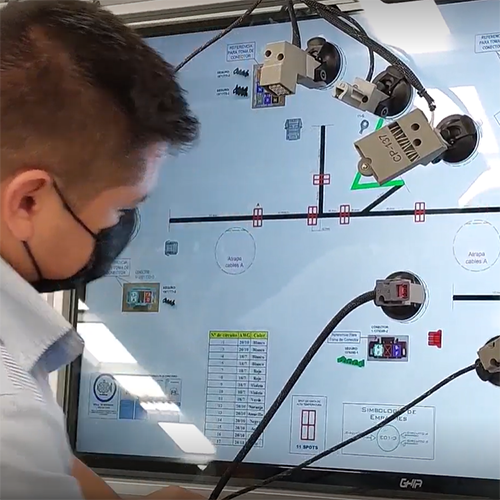 Global Custom Wire and Cable Harness Capabilities Include:
Highly-specialized facilities serving a wide variety of end markets, volumes and product complexity
Fully automatic wire processing centers
Various cut and strip processing centers for individual wire and multiconductor cables
Digital and traditional wire harness assembly boards for low to medium volumes
Digital and traditional wire harness rotary conveyors for high volumes
High power / large gauge power cables
Over braiding of metal, nylon and Nomex filament for shielding and harness protection
Low and High Pressure Moulding Capabilities
Fibre Optic Assembly
Coaxial and RF cables
Crimp force monitoring and cross sectioning capabilities for quality control
Extensive use of Poka-yoke fixturing using in-house 3D-printed fixtures
Integrated digital quality control systems for process tracking and integrated testing
Applications of Volex Custom Wire and Cable Harness Solutions:
Related Volex Integrated Manufacturing Services
Volex IMS is dedicated to delivering connectivity and integration solutions to the world's most demanding, performance-critical applications. Volex is a strategic partner to its global clients, providing support from concept to reality, enabling Volex to manage every single stage of the process.
Contact Volex for Wire & Cable Harnesses and Cable Assemblies
Contact Volex for more information on custom wire and cable harness and cable assembly manufacturing.