Power Cord Sets, Power Cords and Jumper Cords
Volex is a leading manufacturer and supplier of power cord sets, power cords and jumper cords. Volex power cord / jumper cord products are sold to manufacturers for a broad range of electrical and electronic devices, equipment, appliances, and many other applications.
Whether the end-use requires frequent plugging and unplugging, or plug and forget, Volex has the right product solution to meet design requirements.
Volex offers a wide range of pre-configured non-detachable power cords, detachable power cord sets and detachable jumper cords that will satisfy requirements in the following countries and regions:
Argentina
Australia
Brazil
Cambodia
China
Denmark
Europe
Gulf Countries
Hong Kong
India
Indonesia
Israel
Italy
Japan
Korea
Malaysia
North America
Russia
Singapore
South Africa
Switzerland
Taiwan
Thailand
United Kingdom
They can also be called: 2 pin cord sets, 3 pin cord sets, class 1 cord sets, class 2 cord sets, C5 cords, C7 cords, C13 cords, jumper cords, NEMA cord sets, Schuko power cords sets and universal jumper cord sets.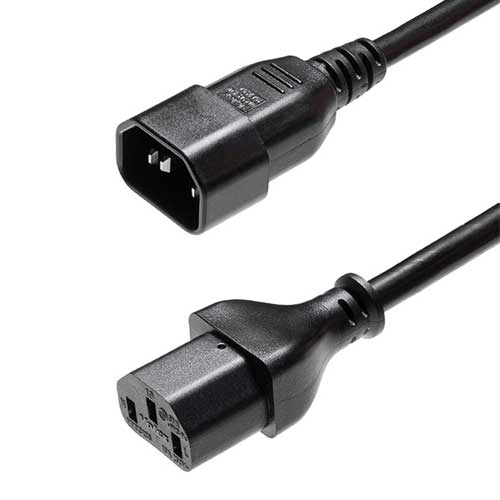 Power Cord Sets, Power Cords and Jumper Cords Technical Information
Volex power cords, power cord sets and jumper cords are offered with many different options and customisations. Plugs vary depending on destination, appliance rating and application. Common plugs are as shown on the table below:
Regions/
Countries
Plug Types
A
B
C
D
E
F
G
H
I
J
K
L
M
N
Safety
Marks
Argentina
IRAM
X
Australia
SAA
X
Brazil
INMETRO
X
X
X
Cambodia
ISC
X
X
X
China
CCC
X
X
Denmark
DEMKO
X
X
X
X
Europe
ENEC
X
X
X
Gulf
GCC
X
Hong Kong
ITS
X
X
India
BIS
X
X
X
Indonesia
SNI
X
X
Israel
SII
X
Italy
IMQ
X
X
X
Japan
PSE
X
X
Korea
KC
X
X
Malaysia
SIRIM
X
X
North America
UL/cUL, CSA
X
X
Russia
EAC
X
X
Saudi Arabia
SASO/GCC
X
Singapore
CPS
X
X
X
South-Africa
SABS
X
X
X
Switzerland
SEV
X
X
Thailand
TIS
X
X
Taiwan
BSMI
X
X
United Kingdom
ASTA
X
X
USA
UL/CSA
X
X
Please scroll to the right to see more information.
Connectors used around the world are covered by EN60335-1 (IEC 335-1) standards. This standard dictates the configuration of connectors designated to deliver the right current and temperature rating paired with the right cables.
The table below shows commonly used IEC standards for available Volex connectors:
Appliance Coupler
Approved
Rated
Current of
Appliance
Coupler
Class of
Equipment
Maximum
Pin
Temperature
of Appliance
Inlet
Number of
Standard Sheet
European
Cable Type
Cross-
Sectional
Area mm²
UL Cable
Type
AWG
2.5
I
70℃
H03VV-F
0.75
SPT-2 or
SVT
18
2.5
II
70℃
H03VV-F or
H03VVH2-F
0.5, 0.75 (a)
SPT-1 or
SPT-2
18
10
I
70℃
H05VV-F,
Screened
0.75, 1.0 (b)
SVT or
SJT
18, 16, 14
10
I
70℃
H05VV-F
0.75, 1.0 (b)
SVT or
SJT
18, 16, 14
10
I
120℃
H05RR-F or
H03RT-H
0.75, 1.0 (b)
SVT or
SJT or HPN
18, 16, 14
10
I
155℃
H05RR-F or
H03RT-H
0.75, 1.0 (b)
⏤
⏤
10
II
70℃
H05VV-F
0.75, 1.0 (b)
SVT or
SJT
18
16
I
70℃
H05VV-F
1.0, 1.5 (b)
SJT
16, 14, 12
16
I
70℃
H05VV-F
1.0, 1.5 (b)
SJT
16, 14, 12
Note:
a.) 0.5mm2 is allowed on lengths not exceeding 2 meters.
b.) If the cord had a length of exceeding 2 meters, nominal cross-sectional area shall be:
i.) 1.0mm2 for 10A
ii.)1.5mm2 for 16A
Mixing and matching of plugs and connectors with the corresponding cables as per applicable safety standards will satisfy the right power cord / power cord set / jumper cord requirement.
Applications / Markets for Power Cord Sets, Power Cords and Jumper Cords
Power / jumper cords from Volex are used in a wide variety of applications and markets. Examples include:
Business and IT Peripherals
Desktop Computers
Laptops and Notebooks
Monitors
Point of Sale Systems
Printers
Tablets
Uninterruptible Power Supplies (UPS)
Consumer Electronics
Game Consoles
Projectors
Sound Systems
Televisions
DIY and other Equipment and Appliances
Extension Cords
Power Tools
Pressure Washers
Replacement Power Cords
Sewing Machines
Water and Air Pumps
Domestic Appliances
Air Conditioners
Dryers
Microwave Ovens
Refrigerators and Freezers
Steam Irons
Vacuum Cleaners
Washing Machines
Healthcare
Clinical Diagnostics
Imaging
Medical Therapy Systems
Patient Care Systems
Patient Monitoring
Surgical Systems
Personal Care
Hair Curlers and Dryers
Massagers
What are Power Cord Sets, Power Cords and Jumper Cords?
Power cord sets, also known as detachable power cords, are electrical power cords that a consumer can conveniently disconnect and re-connect from the appliance.
Power cords, also called non-detachable cords, are ones where an end is fixed by the manufacturer to the appliance and the other end is a plug. The appliance end can be either be a grommet with terminals, board on connector, or free-end for direct soldering to a printed circuit board (PCB)
Jumper cords are detachable cord sets. They have cables fitted with plug connectors instead of a 3-pin plug. They are often used to supply power from the computer central processing unit (CPU) to the monitor. Jumper cords are not directly plugged to the wall socket.
Power cord sets, power cords and jumper cords offer different features to suit customer needs, including:
Straight and angled versions for plugs, plug connectors and connectors
Various conductor sizes and cable types to meet required current and temperature ratings
Popular length variants to suit your installation requirements
Custom binding and labelling to fit your special packaging needs
Color variants for ease in traceability
Brand logo or marking (subject to premiums and additional investments)
Why Choose Volex for Power Cord Sets, Power Cords and Jumper Cords?
Volex customers of power cord sets, power cords and jumper cords benefit from strong technical expertise and global manufacturing and delivery. The Volex global factory footprint, which includes tariff-free manufacturing sites, an efficient global supply chain, and logistics support, enables reduced product lead time and efficient cost management. Volex engineering teams can customise power cord set, power cord and jumper cord solutions to a customer's specific requirements and provide quick-turn custom design samples supported by skilled local sales and field applications engineering (FAE) teams.
Dynamic design and development capabilities support our diverse product portfolios. Rigid reliability tests, and 100% electrical tests, ensure total product performance. Volex always strives to fulfil customer expectations in the best way possible.
Reasons to select Volex for power cord sets, power cords and jumper cords include:
Volex is one of the largest power cord makers in the world
Strong design capability allows Volex to meet the highest cosmetic standards and pass the most stringent test requirements on various products
Volex applies the best product features and manufacturing processes to achieve desired product performance and reliability.
In-house capability to extrude cables offers better control of quality, faster product launches, and shorter delivery lead-times.
Contact Volex for Power Cord Sets, Power Cords and Jumper Cords
Contact Volex for further assistance with power cord sets, power cords and jumper cords.