Duckheads
Volex is a leading manufacturer and supplier of duckheads and related electric plugs/power cord products. Volex duckheads are used by manufacturers of a broad range of electrical and electronic devices, equipment, appliances, and many other applications.
Volex offers customised duckheads with various features such as folding or rotatable pins. When the end user requires detachable plugs with IEC connectors mated with power adaptors, Volex has the right product solution.
They can also be called duck heads and duckhead adaptors.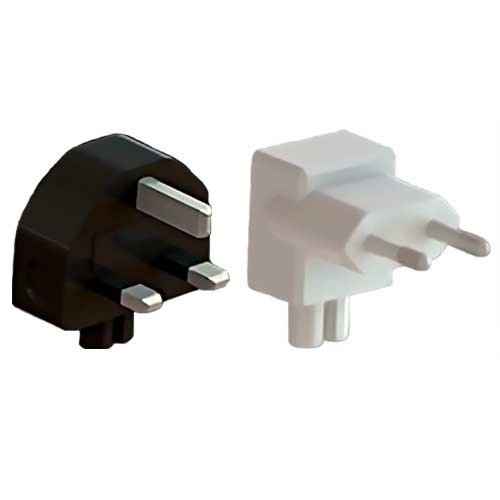 What are Duckheads?
Duckhead adaptors are detachable plugs with IEC connectors that are mated with power adaptors. The purpose of their design is to provide flexibility to mobile end users to plug their electronic device anywhere by just replacing the plug heads without the need to bring a much bulkier power cord set.
Duckheads Technical Information
Duckheads from Volex are offered with many different options and customisations. Custom options include:
Thermosetting or thermoplastic body to match the power adaptor profile
Foldable and/or rotatable pins
Class I or II plugs and connectors for various country and region requirements
Standard or high cosmetic finishes
Applications / Markets for Duckheads
Duckheads from Volex are used in a wide variety of applications and markets. Examples include:
Business and IT Peripherals
Digital Cameras
Handheld Gaming
Laptops and Notebook Computers
Mobile or Mini Printers
Mobile Phones
Tablets
Personal Care
Features of Duckheads
Volex duckheads have different features to suit customer needs. These features include:
Can be highly customised
Offer ease in inventory management
Provide overall cost savings due to the following:

Lower risk of obsolescence
Flexibility or interchangeability
Lower minimum ordering cost
Less prone to defects for standard finishes
Fewer existing safety regulations to maintain

Promotes safety since they are unique to the end-product
Why Choose Volex for Duckheads?
Volex customers for duckheads benefit from strong technical expertise and global manufacturing and delivery. The Volex global factory footprint, which includes tariff-free manufacturing sites, an efficient global supply chain, and logistics support enables reduced product lead times and efficient cost management. Volex engineering teams can customise duckheads to a customer's specific requirements and provide quick-turn custom design samples supported by skilled local sales and field applications engineering (FAE) teams.
Dynamic design and development capabilities support Volex's diverse product portfolios. Rigid reliability tests, and 100% electrical tests, ensure total product performance. Volex always strives to fulfil customer expectations.
Reasons to select Volex duckheads include:
Volex is one of the first in the industry to supply duckheads to major brands reaching hundreds of millions
Strong design capabilities allow Volex to meet the highest cosmetic standards and pass the most stringent test requirements on various products
Top product features and strong manufacturing processes help Volex achieve desired product performance and reliability