2-Pin Plugs and 3-Pin Plugs
Volex is a leading manufacturer and supplier of 2-pin plugs and 3-pin plugs. Volex 2-pin plug and 3-pin plug products are sold to manufacturers for a broad range of electrical and electronic device, equipment, and appliance applications.
Whether the end-user requires frequent plugging and unplugging, or plug and forget, Volex will have the right 2-pin plug and 3-pin plug solution to meet any design requirement.
Volex offers the following 2-pin plug and 3-pin plug products portfolio depending on applicable safety standards:
World-wide range of safety approvals for applicable plug types
(A, B, C, D, E/F, G, H, I, J K, L, M & N)
Straight and angled versions
Plugs with flat and/or round pins
PVC or halogen-free overmould
Standard or housing/anti-tracking types
Insulated or non-insulated pins
Fused or non-fused
Filtered plugs with radio interference suppression choke
They can also be called: 2-point plugs, 3-point plugs, 2-pole plugs, earthing plug, 2-prong plugs, 3-prong plugs, 2-wire plugs, 3-wire plugs.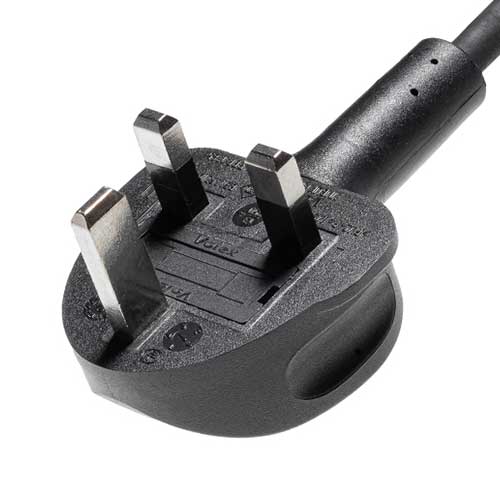 2-Pin Plugs and 3-Pin Plugs Product Portfolio
Volex offers a complete portfolio of 2-pin plugs and 3-pin plugs for all countries, regions, types, and safety marks.
Regions / Countries
Plug Types
A
B
C
D
E
F
G
H
I
J
K
L
M
N
Safety
Marks
Argentina
IRAM
X
Australia
SAA
X
Brazil
INMETRO
X
X
X
Cambodia
ISC
X
X
X
China
CCC
X
X
Denmark
DEMKO
X
X
X
X
Europe
ENEC
X
X
X
Gulf
GCC
X
Hong Kong
ITS
X
X
India
BIS
X
X
X
Indonesia
SNI
X
X
Israel
SII
X
Italy
IMQ
X
X
X
Japan
PSE
X
X
Korea
KC
X
X
Malaysia
SIRIM
X
X
North America
UL/cUL, CSA
X
X
Russia
EAC
X
X
Saudi Arabia
SASO/GCC
X
Singapore
CPS
X
X
X
South Africa
SABS
X
X
X
Switzerland
SEV
X
X
Thailand
TIS
X
X
Taiwan
BSMI
X
X
United Kingdom
ASTA
X
X
USA
UL/CSA
X
X
Please scroll to the right to see more information.
Volex 2-pin plugs and 3-pin plugs are offered with many different options and customisations. For each product line, customisation options may affect any of the following:
Plug profile (shape of overmould, cable grips, thumb grip, strain-relief, etc.)
Overmould hardness and/or texture
Pin blade texture finishes and plating
Plug/connector overmould and cable jacket colour variants
Special markings on plugs/connectors or cable jacket
PVC jacket texture and/or softness
Cable length variants and flexibility and/or reliability performance to suit application
Special hanking/binding methods and packaging (labels, pin caps, PE bags)
Other specifications
Applications / Markets for 2-Pin Plugs and 3-Pin Plugs
2-pin plugs and 3-pin plugs from Volex are used in a wide variety of applications and markets. Examples include:
Business and IT Peripherals
Desktops
Laptops and Notebooks
Monitors
Point of Sale Systems
Printers
Tablets
Consumer Electronics
Game Consoles
Projectors
Sound Systems
Televisions
DIY and other Equipment and Appliances
Extension Cords
Power Tools
Pressure Washers
Replacement Power Cords
Sewing Machines
Water Pumps and Air Pumps
Domestic Appliances
Air Conditioners
Dryers
Microwave Ovens
Refrigerators and Freezers
Steam Irons
Vacuum Cleaners
Washing Machines
Healthcare
Clinical Diagnostics
Imaging
Medical Therapy Systems
Patient Care Systems
Patient Monitoring
Surgical Systems
Personal Care
Hair Curlers and Dryers
Massagers
What are 2-Pin Plugs and 3-Pin Plugs?
2-pin plugs consist of two flat or round pins with one called "hot" or "live" and the other called the "neutral". When connected to an electric circuit, the current flows from the live pins through the copper conductor and into the device.
3-pin plugs have an additional earth pin (also called ground pin) which serves as protection against electric shock.
Features of 2-Pin Plugs and 3-Pin Plugs
Volex 2-pin plugs and 3-pin plugs offer different features to suit customer needs:
Designed with built-in quality through sound component selection and applied best industry manufacturing practices
Pass the stringent reliability test standards required by various safety agencies world-wide
Matched with quality electrical cables that uses virgin copper and meets required safety standards
Offered in modern-looking designs that compliment a product's sophisticated design
Designed with reduced PVC overmould to minimise environmental footprint
Utilize pass-through 100% in-line continuity testing to deliver expected market and end-use performance
Updated to meet the latest safety and environmental regulatory standards
Why Choose Volex for 2-Pin Plugs and 3-Pin Plugs?
Volex 2-pin plugs and 3-pin plugs customers benefit from strong technical expertise and global manufacturing and delivery. Volex global factory footprint, which includes tariff-free manufacturing sites, an efficient global supply chain and logistics support, enables reduced product lead time and efficient cost management. Volex engineering teams can customise 2-pin plug and 3-pin plug solutions to a customer's specific requirements and provide quick-turn custom design samples supported by skilled local sales and field applications engineering (FAE) teams.
Dynamic design and development capabilities support our diverse product portfolios. Rigid reliability tests, and 100% electrical tests, ensure total product performance. Volex always strives to fulfil customer expectations in the best way possible.
Reasons to select Volex for 2-pin plugs and 3-pin plugs include:
The Volex brand is a manufacturing leader in meeting power industry standards
Reliable solutions and custom designs that meet or exceed applicable safety and industry standards
Comprehensive coverage of world-wide safety approvals
Quick turnaround and cost competitiveness enhanced by automation
Expert support from local engineering and sales teams across over 20 countries
Tariff-free manufacturing sites availability
Continuous product evolution to offer best solutions and long-term value to customers
Contact Volex for 2-Pin Plugs and 3-Pin Plugs
Contact Volex for further assistance with 2-pin plugs and 3-pin plugs.