Japan 20A EV Charging Cable and Plug with Dual Thermistors
Volex Japan 20A EV charging grid cables and plugs are used in mode 2 AC charging cable assemblies to charge battery-powered (BEV) or plug-in hybrid electric vehicles (PHEV).
EV charging grid cables can be used with any domestic or household socket outlet and connect to the In-Cable Control and Protection Device (IC-CPD), allowing drivers to safely charge their electric vehicle without the need for a dedicated circuit or EV charging station.
All Volex electric vehicle charging grid cables and plugs meet industry standards, regulatory, and country-specific compliance requirements, ensuring compatibility with various regional grid plug interfaces.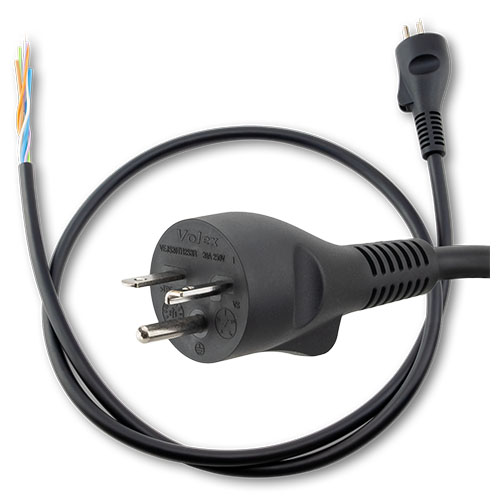 Japan 20A EV Charging Cable and Plug Technical Information
Cat. No.
VEJS20TH2A3R
Description
Straight 20A Plug
Standard
METI Ordinance Appendix 4 Section 1, Section 6 and Appendix 10 Chapter 5 (JWDS 0033)
Max. Rating
20A 250V
IP Rating
(Match with wall socket per safety standard)
IP 20
IP Rating of Plug
IP 67
Cable Type
OOCTF 3×2.5mm + 3×0.5mm
Contact Volex for Japan 20A EV Charging Cables and Plugs
Contact Volex for further assistance with Japan 20A electric vehicle charging cables and plugs.