NEMA 6-50P Angled Plugs
Volex offers NEMA 6-50P angled plugs with maximum ratings of 25A and 250V if fitted with AWG 12 cables. The plug is designed and manufactured with safety approvals from UL/c-UL and CSA to meet industry standards, including:
UL498
UL817
CSA Std C22.2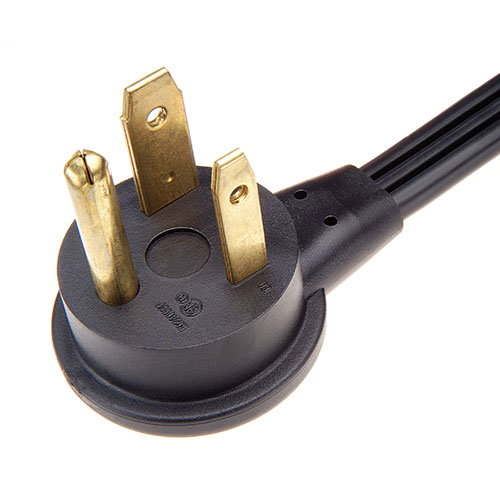 NEMA 6-50P Plugs Technical Information
Volex US650A is an angled NEMA 6-50P plug that is typically used with heavy equipment and appliances. Safety approvals cover various cable types as follows:
SPT-3
ST
STO
STOO
STW
STOW
STOOW
The conductor size available is AWG 12 with higher rating up to 50A possible with bigger cable gauge, and subject to product safety certification, or new product development.
This NEMA 6-50P angled plug from Volex is commonly used in North America. See photo, drawing, and chart below for details.

NEMA 6-50P Angled Plugs
Standard
UL498,UL817, CSA Std. C22.2
Max. Rating
25A, 250V
Safety Approval
UL/c-UL, CSA
Catalogue No.
Cable Type
Size
Matching Connector
US650A
SPT-3
3 x AWG 12
Free-end or Fast-on
and Ring Terminals
ST
3 x AWG 12
STO
3 x AWG 12
STOO
3 x AWG 12
STW
3 x AWG 12
STOW
3 x AWG 12
STOOW
3 x AWG 12
Contact Volex for NEMA 6-50P Plugs
Contact Volex for further assistance with angled NEMA 6-50P plugs.