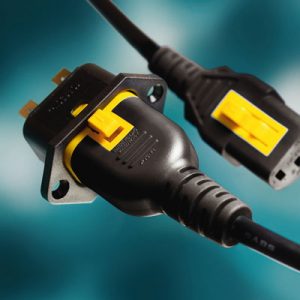 The British power cord and cable assembly solutions specialist Volex plc and the SCHURTER Group can look back on a long-standing, extremely successful partnership. This has now been taken to a new level in a "License and Distribution Contract".
"What began over a decade ago as a distribution contract has developed into a very successful partnership for both companies. The central element of this partnership is the V-Lock cord retention system developed by Volex, which perfectly matches the SCHURTER mission of safe&easy," summarises Donat Wullschleger, Head of Product Management at SCHURTER.
SCHURTER is continuously expanding the V-Lock product portfolio to guarantee compatibility with the powercords produced by Volex. In addition, the markets are successfully served by SCHURTER's global distribution network, which is also shown by the significant increase in sales in this segment.
New License and Distribution Contract
Besides the distribution agreement, Volex grants SCHURTER the license to develop its own complementary products under the V-Lock label and to brand them accordingly. The best example of this is the development and launch of the world's first rewireable device connector with V-Lock: SCHURTER 4783.
Jim Logan, Business Development Director at Volex commented "The Volex V-Lock solution for cord retention has been very successful in products where reliability and performance are essential. SCHURTER has been a key part of that success with their extensive range of V-lock compatible inlets and outlets, and we are delighted to extend our partnership with them."
About V-Lock
For the power supply on the device side in the 1-phase range, practically only plugs according to IEC 60320 are used worldwide, as this ensures maximum compatibility for device manufacturers. This standard is now enhanced by a cord retention system, which reliably prevents unintentional disconnection of the power supply. Important for instance in medical devices, in data centres and with uninterruptible power supplies (UPS). A simple touch of a finger is all it takes to disconnect the power cable in a controlled manner – safe&easy.
About Volex
Volex (www.volex.com) is a leading global interconnect supplier of power products and complex cable assemblies. Volex serves a variety of OEM markets and customers including consumer electronics, automotive, medical, industrial robotics, data centre and telecommunications. Headquartered in the UK, Volex has thirteen manufacturing facilities worldwide and currently employs over 6500 people in 20 countries.
Internet
Datasheet 4783 [2]
Company
SCHURTER is an internationally leading innovator and manufacturer of electric and electronic components. The company focuses on safe power supply and easy-to-use equipment. Its extensive product portfolio comprises standard solutions in the fields of circuit protection, plugs and connectors, EMC products, switches, input systems and electronic manufacturing services. SCHURTER's global network of representative offices ensures reliable delivery and professional customer service. Where standard products are unsuitable, the company develops client-specific solutions.
Contact
If you require further information, please contact SCHURTER using the following information:
SCHURTER AG
Werkhofstrasse 8-12
6002 Luzern, Switzerland
+41 41 369 31 11
[1]: https://www.schurter.com/v-lock
[2]: https://www.schurter.com/datasheet/4783
[3]: https://webservices.schurter.com/ImagePool/FotosPR/Medium/M1207_V-Lock_Pressrelease_IM0009150.jpg