Cord Reels
Volex is a leading manufacturer and supplier of power cords. Many years of industry experience, and being one of the biggest in the market, allows Volex to develop and customise peripheral products to cater to customer needs. One such line of complimentary products are cord reels or cord winders. Volex cord reels may be used by manufacturers of a broad range of electrical and electronic devices, equipment, and appliances requiring certain levels of mobility which will benefit from a built-in cable management system with a high level of reliability and performance.
Volex offers customised cord reels for various cable lengths. When the end use requires a cord reel for ease of managing long cables, Volex has the right product solution.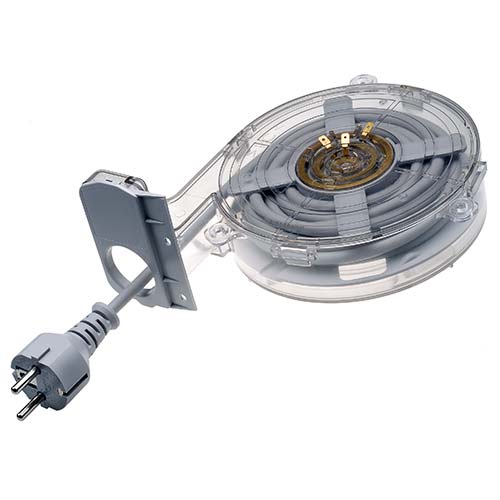 What are Cord Reels?
Cord reels, or cord winders, provide ease in managing long cables. They allow users to cleanly store excess lengths while appliances are in use. Cord reels are usually contained inside the equipment, keeping cable clutter invisible when not in use.
Cord Reels Technical Information
Cord reels from Volex are offered with many different options and customisations. Customisation options include:
Heavy duty or light applications
Various cable lengths
Matched with various cable types for required destinations
Auto-retract or push-button release with multiple retraction levels
Number of outlets
Housing Materials
Indoor or outdoor use
Protection mechanism: surge protection/circuit breaker switch
Applications / Markets for Cord Reels
Cord reels from Volex are used in a wide variety of applications and markets. Examples include:
Do It Yourself (DIY) Equipment and Appliances
Extension Cords
Power Tools
Pressure Washers
Sewing Machines
Vacuum Cleaners
Other Mobile Equipment and Appliances
Features of Custom Cord Reels / Cord Winders
Volex cord reels can have different features customised to suit customer needs. Volex cord reel features include:
Automatically retractable: The power cord reel retracts smoothly with a clever auto-guide rewind mechanism to avoid tangles. Being able to lock the cord at any length allows users to quickly store equipment when finished
Versatile application scenario: Perfect for use with heavy or light duty tools, or applications with various cable lengths and cable types
Protection mode: Built-in circuit breaker protects devices against short circuit and overloads which will automatically cut off power supply when the total current of the connected devices is surpassed
These features offer flexibility in component selection when matching enclosures with cables to provide a perfect fit to the appliance in terms of the following:
Weight and size of cord reel
Maximum length and retractable stages of cable
Number of pull and retract cycles of power cord
Why Choose Volex for Cord Reels?
Volex customers for cord reels benefit from strong technical expertise and global manufacturing and delivery. The Volex global factory footprint, which includes tariff-free manufacturing sites, an efficient global supply chain, and logistics support, enables reduced product lead times and efficient cost management. Volex engineering teams can customise cord reels to a customer's specific requirements and provide quick-turn custom design samples supported by skilled local sales and field applications engineering (FAE) teams.
Dynamic design and development capabilities support Volex' diverse product portfolios. Rigid reliability tests, and 100% electrical tests, ensure total product performance. Volex always strives to fulfil customer expectations.
Reasons to select Volex as a partner in developing cord reels:
Volex is a trusted brand in power cords and cable assemblies
Strong design capabilities allow Volex to meet the highest cosmetic standards and pass the most stringent test requirements on various products
Top product features and strong manufacturing processes help Volex achieve desired product performance and reliability