QSFP56 Active DAC Cable
Volex's QSFP56 active Direct Attach Copper cable features 4 transmitting and 4 receiving 50Gbps PAM-4 channels. The cable assembly meets 50G and 200G Ethernet and InfiniBand High Data Rate (HDR) specifications. The Volex QSFP56 active DAC enhances Signal Integrity severely stressed under high-speed data rate through advanced linear equalization. The result is up to 9M reach vs. max 3M reach for the passive version and smallest cable size and highest flexibility.
As next-gen data centres deploy faster speed in a tighter space, they need high performance cables that reduce power consumption, provide reliable operation and are low cost. The Volex QSFP56 active DAC is designed to meet the next-gen data centre needs and, at less than 150mW per active channel, is a cost-effective alternative to the high-power consumption Active Optical Cable.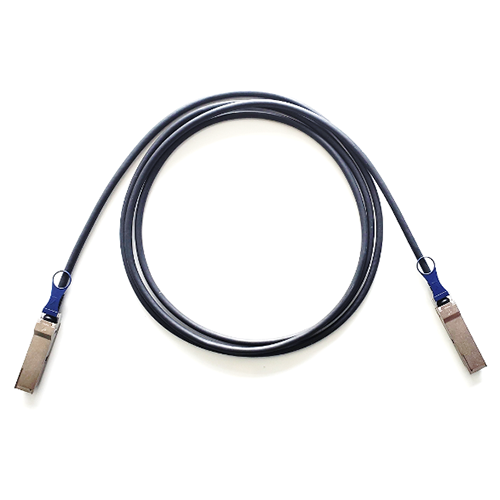 QSFP56 Active DAC Cable Product Highlights
Low power consumption and heat dissipation
Complete cable assembly uniquely terminated at the factory to provide the most reliable operation
100% tested for signal integrity with serial number traceability
QSFP56 Active DAC Cable Features and Specifications
Product Type
QSFP56 to QSFP56 active copper direct attach copper cable
Conductor Treatment
Laser stripped conductors
Cable Type
High-speed twinax cable, 8-pair differential, 100 +/-5 ohms
Cable Colour
Black
Cable Jacket
PVC
Packaging
PE bag
Power Supply Voltage
3.3V
Power Consumption
<150mW per active channel
Temperature Range
0 – 70o C
Retention Force
Minimum 125N per SFF-8661
Insertion Force
Maximum 60N per SFF-8661
EEPROM
Each connector module contains an EEPROM to provide product information to the host system
Cable Termination
100% factory tested including comprehensive signal integrity verification and serial number traceability using advanced Manufacturing Execution Systems
Volex reserves the right to change specifications and availability without prior notice.
QSFP56 Active DAC Cable Applications
Switches, Servers, Routers, Storage Arrays
Networking Equipment
Data Centres
Telecom Central Offices (CO)
Test and Measurement Equipment
Standards Compliance of QSFP56 Active DAC Cable
IEEE P802.3cd
InfiniBand HDR
SFF-8665, SFF-8661, SFF-8679, SFF-8636
CMIS 5.1
EIA-364
UL 94, 1581, VW1, File No. E510564
RoHS
QSFP56 Active DAC Cable Mechanical Drawings

QSFP56 Active DAC Cable Product Dimensions
Volex P/N

Cable Length
(m)
Cable Gauge
(AWG)
Cable OD
(mm)
DA50PSG40BA
4.00
30

7.0

DA50PSG50BA

5.00
30
7.0
DA58PSG50BA
5.00
28

8.5

DA58PSG60BA

6.00
28
8.5
DA58PSG70BA
7.00
28

8.5

DA56PSG70BA

7.00
26
9.5

DA56PSG80BA

8.00
26

9.5

DA56PSG90BA
9.00
26

9.5
4-9m lengths available with 26-30 AWG conductor sizes to achieve maximum performance. Options Available:
Low Smoke, Zero Halogen (LSZH) jackets
Custom colours for pull tab
Custom EEPROM mapping
Contact Volex for QSFP56 Active DAC Cable
Contact Volex for further assistance with external QSFP56 active direct attach copper cable.